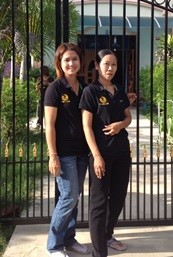 Radsamee Ltd. Workwear
The story behind Radsamee Ltd. Workwear
In the time of the Thailand pioneers in workwear
At that time, workwear was mainly made of 100 % denim cotton that had to withstand all sorts of things and last a long time. Based on these requirements, Radsamee brought with her the idea of Denim workwear with superior wearing qualities from the Thai and founded the company Radsamme Ltd. in cooperation with the Danish company Scan Con Group A/S

The fabric itself was called Bull Denim and was imported from China Mills factory, the models have been developed with several smart details, and the wearing qualities of the workwear improved by adding the yarn combination of polyester and cotton.

New colours have been launched and several trade industries are now recognized by the specific colour of their work wear. Workwear is no longer just clothing, but has gradually become part of every company's professional image. Development is an ongoing process as new smart colour combinations are continuously created.
Error: Error validating access token: The user has not authorized application 222116127877068.